Greetings from Tekin Guvercin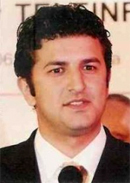 Dear Guests and Participants,
It is my pleasure to welcome you to the International Conference of Project Management organized by PMSOFT.
The impact of globalization has resulted in a very competitive business environment that makes the fulfillment of customer' ever sophisticated project needs most challenging. To help you cope with the increased complexity and needs of project management and its related areas, This event will bring together national and international frontline thinkers, academics, executives, government and business officials, practitioners and leaders to present and discuss the pivotal role of Project Management in the achievement of excellence organizations.
The success or failure of project initiatives start with choosing right solution and often depends on the successful implementation of project management techniques, knowledge and of course the human factors. Aim of this conference that would be able to provide a state-of-the-art information and knowledge in the challenging world of project management.
Future Network Development is a partner network created by a group of international solution providers. It offers complete project management solution for its customer environment by ASTA Poweproject and TILOS. FND is fortunate to partner with best in class providers of solutions and technologies that aid our mission to positively impact our customer`s people and processes. Using opportunity of this event we would like to introduce ASTA Powerproject and TILOS solutions to Russian market.
Asta develops solutions to meet the demands of everyone involved in projects from the team member who can report progress remotely from site with web tools to the executive who needs up to date business intelligence wherever he or she is in the world. At the heart of this is the unique real time multi user portfolio and project management system that is both easy to use and powerful. Asta believes that true project and portfolio success cannot be achieved without offering an end to end solution and associated project management process development and training.
Additionally Asta provides solutions for Risk Management, Critical Chain planning, Earned Value Analysis, Line of Balance, Repetitive Scheduling Methods and advanced resource and cost management.
TILOS is a time-location planning software for managing linear construction projects, basically infrastructure projects. On this event we would like to share with you know how of the powerful project management tool for Linear Scheduling and why 10 of biggest European Construction companies using TILOS.
I would also like to thank especially the PMSOFT who invited us to become a partner of today's Conference.
We also owe special thanks to Mr. Alexander Tsvetkov - General Director of the PMSOFT who appreciated the importance of this event and who kindly provided opportunity for us to take in part in this Conference.
Ladies and gentlemen, finally allow me on behalf of the FND Partner Hub to wish you a fruitful and pleasant work.
Tekin Guvercin
CEO, FND